Five Key Details of Every Tee Shirt Club Design
Our beloved Tee Shirt Club reopens in one week!!  I'm super excited to welcome new friends to the fun and wanted to share a little behind the scenes of five super important (to me) details that I focus on for every single club design.  Let's do this!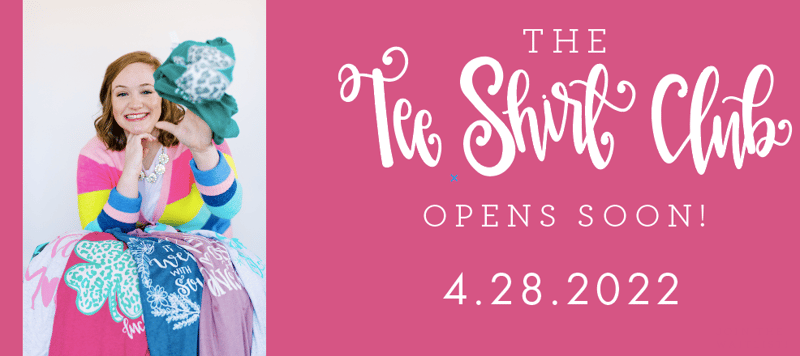 Variety
No one wants a closet full of grey, black, and white tees!!  Our Tee Shirt Club is ever-changing and we rotate tons of bright and bold colors to help you add variety to your wardrobe and try colors you might not normally reach for.  We also change up styles throughout the year to include crew neck and v-neck short sleeves, long sleeves, and baseball tees!  
Unique Designs 
Every single design in the Tee Shirt Club features original art and/or hand lettering.  These are designs you can't find anywhere else!  I love creating things that will make you smile every time you look in the mirror.
Empowering and Encouraging
Speaking of smiling, we are all about positive vibes around here!!  Our designs focus on empowering and encouraging women of all ages (did you know we have tees for little ones too?!).  Every design features something uplifting that will spread joy and positivity every time you wear it. 
Size Inclusivity
Our tees are always unisex fit, so you don't have to worry about whether or not next month's will fit like a glove!  We offer a full size run of tees small through 3X, plus sizes for your mini me beginning at 3 months and running through youth large.  Plus, our tees are THE softest... seriously, they get better with every single wash and wear!
Fun Packaging
We get so much junk and boring mail, so I'm on a mission to spread HAPPY mail!  Our Tee Shirt Club packaging is extra happy so you'll know from the very first time you see it on your doorstep that it's going to be extra special.  Of course, you'll confirm that the minute you open the package! 
We are SO excited to welcome new friends like you to the Tee Shirt Club on Thursday, April 28!  Click here to grab your spot on the waitlist for early access to the club.  You can also text TSC WAITLIST to (910) 469-1936 to get a text notification with early access to join before we go live to the public! 
---